JOIN – SKI – STAY SAFE
Zum Safety Meet-up treffen sich die Snowmads heuer in der Axamer Lizum um gemeinsam "safe" und gut vorbereitet in die neue Saison zu starten.
Was Dich Erwartet
Gemeinsam mit unseren Snowmads Athleten werdet ihr in kleinen Gruppen (max. 6) verschiedene Stationen im Skigebiet ansteuern und dort Input von unseren Bergführern bekommen.
An den Stationen gehen wir mit euch gemeinsam durch, was euere Geräte können, was nicht und worauf man sonst noch achten sollte.

Bei der LVS- Suche werdet ihr als Gruppe mit einer Mehrfachverschüttung konfrontiert und müsst diese Situation lösen. Das ganze wird Videodokumentiert und danach mit unseren Bergführern durchbesprochen.Dazwischen soll auch noch reichlich Zeit bleiben zum Skifahren und um die Snowmads Athleten besser kennen zu lernen.Teinahmevorraussetzung ist, dass du schon erste Erfahrungen mit LVS-Geräten (Pieps) gemacht hast, also kein kompletter Anfänger bist. Alles andere wirst du bei uns lernen.

Weitere Infos zu Testski und Goodies für die Teams folgen.
Unter den Teilnehmern wird ein LVS-Gerät der Marke Pieps verlost 😉
Lern unsere Snowmads Athleten kennen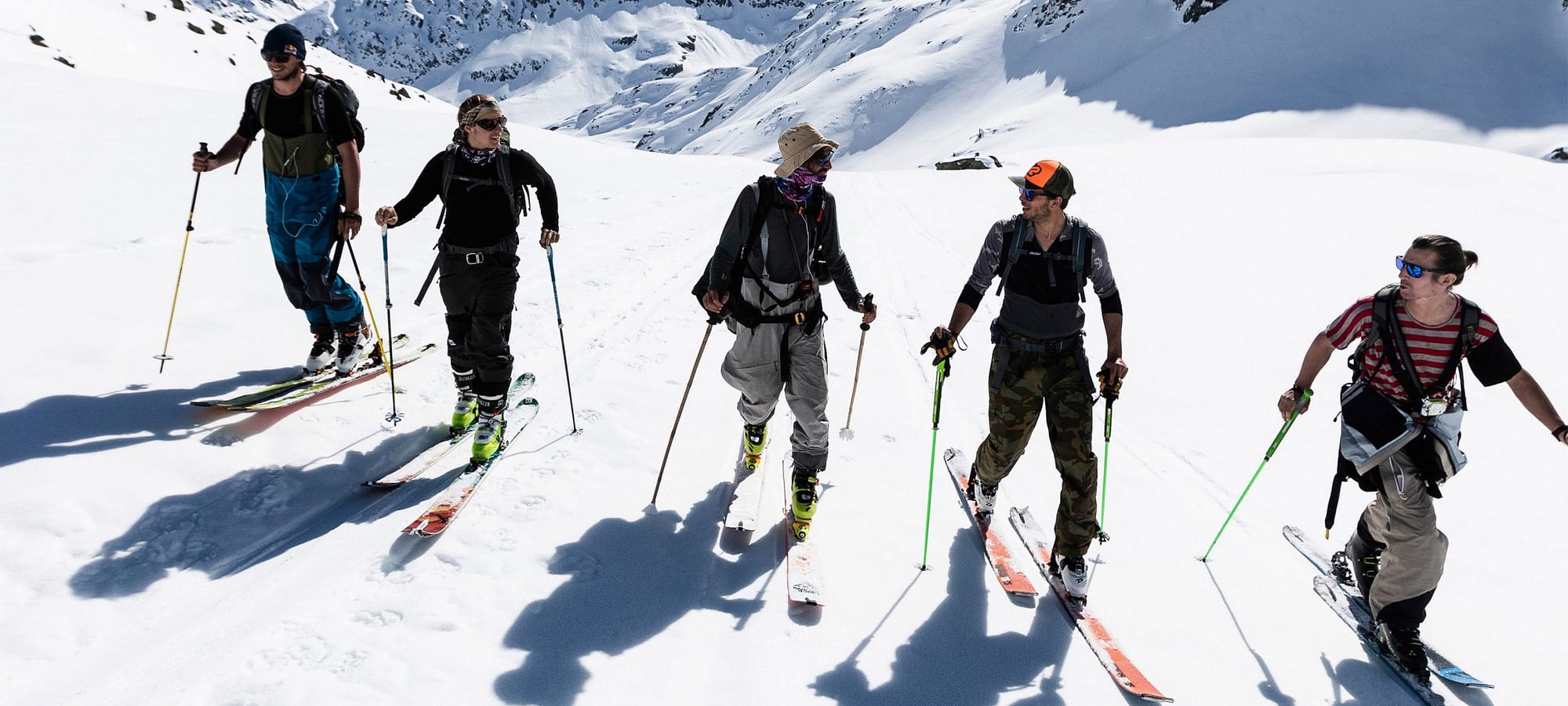 Local Snowmads
Local Guides
Group Size
Maximal 7
Meeting Point
Axamer Lizum
Next Date
8.12.2022
Teilnahmegebühr
55€ ohne Liftkarte / 90€ mit Liftkarte (bereits voll | WARTELISTE)
2 days Cat-skiing @ Lynx Freeride Lodge, 3-4 days free-touring (skitouring, resortskiing)
7 night in double rooms (Guesthouses, apartments and hotel) / single room option available
Breakfast, Lunchpack, Dinner
Local Guides (English speaking)
UIAGM certified Mountain Guide (German & English-speaking)
Transports and driver

Flights
Ski & Snowboard gear
Alcoholic beverages
Tips

Our trips are masterminded by professional athletes, but you definitely don't have to be one to join us on them. For us sport is above all a medium to connect people and realise dreams, whether it's winter or summer. Some skills may be required depending on the adventure, but mostly our journeys are designed for anyone that's motivated, fit and excited to broaden their horizons. This trip is for experienced off-piste skiers/boarders. You should be able to ski all kinds of terrain with confidence and a good technique. This trip also requires handling skills and basic knowledge of climbing skins, avalanche transceiver, shovel and probe. Experience in rappelling is not necessary. Physical fitness is mandatory for participating in our freeride trips. Our guides are of course eager to adjust the pace to the group as best they can, but hikes between 400 and 800 meters in altitude should not be a problem for you. Depending on snow, strength and motivation of the group hikes will take between 1-3 hours. Participants may be excluded from certain runs or hikes if they don't meet the requirements and / or endanger themselves, the group or the mountain guides.
The cuisine on the Balkan is one of the highlights of the trip. There is a broad variety of meat dishes, but also a lot of vegetarian options that definitely provide all the nutrients a veggie lover needs. The breakfast is usually very rich and for the road we will either have snacks on huts or bring lunch packs. On this trip we rarely get any packaged food and most ingredients will be out of local organic farming.