Cat-Skiing and Touring — You love skiing powder and also look for a wild adventure? Then the Balkan Winter Experience is just what you want.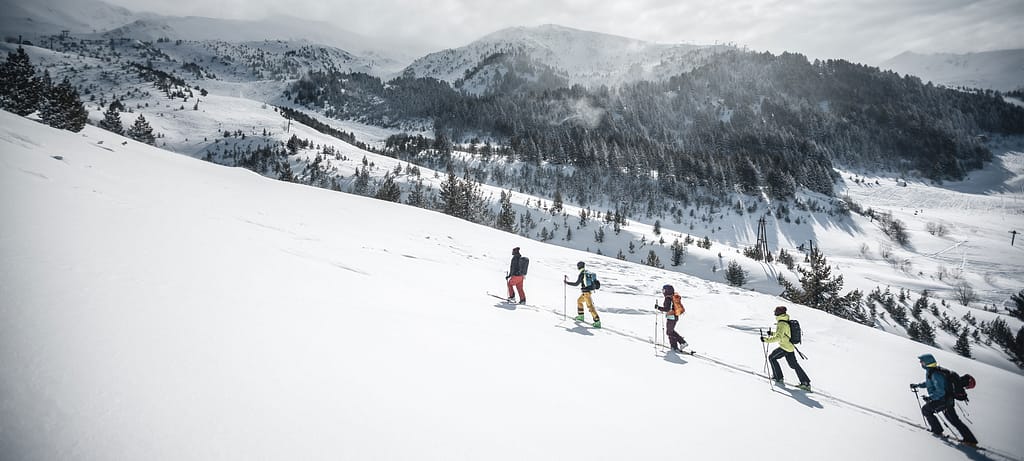 What Awaits You
Skiing the Balkan States is usually not the first thing that comes to one's mind while wondering about the next skiing trip. The wild mountains and it's welcoming people are the reason why we fell in love with this special place. On this trip you will get to know the small local ski area communities and explore the surrounding terrain on touring equipment.
The second part of the journey leads us into the border region of Kosovo where our local Snowmads Sebo and Hamdi established a remote little powder oasis. With a snowcat in front of the mountain lodge you are ready for adventure. The tour is guided by an Austrian UIAGM certified guide (German and English speaking) and supported by our Balkan Snowmads team.
More infos can be found below.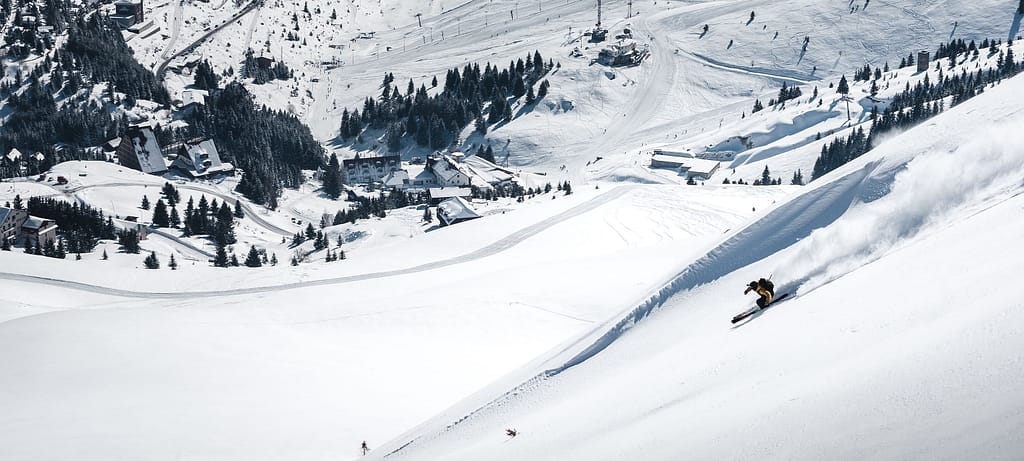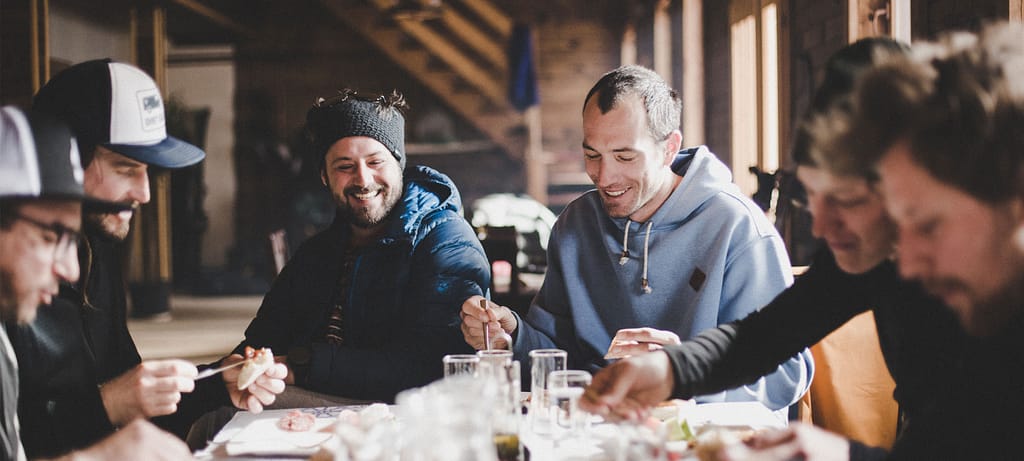 Itinerary
We meet up in Skopje on Saturday, please ensure that you will arrive before 3:00 pm.
The first half of the trip we will explore the regions of Shar Mountains, use ski resorts as access points and then use our touring-equipment to find the most interesting faces.
The trip would not be what it is without the experience to spend some nights at the remote Lynx-Freeride Lodge at the Gjeravica. Our long-time friends and local Snowmads Sebo and Hamdi will await you up there in the wilderness and get you to the best possible snow conditions. We have two days of catskiing in the package and one day of touring, where we would get up the Gjeravica, if the conditions let us.
On Saturday we will head back to Skopje, where we do a little city tour with our local friends to celebrate a fun trip and a lot of good times. And for the last night of accommodation we found a very special and comfortable place for you.
Meet our amazing local guides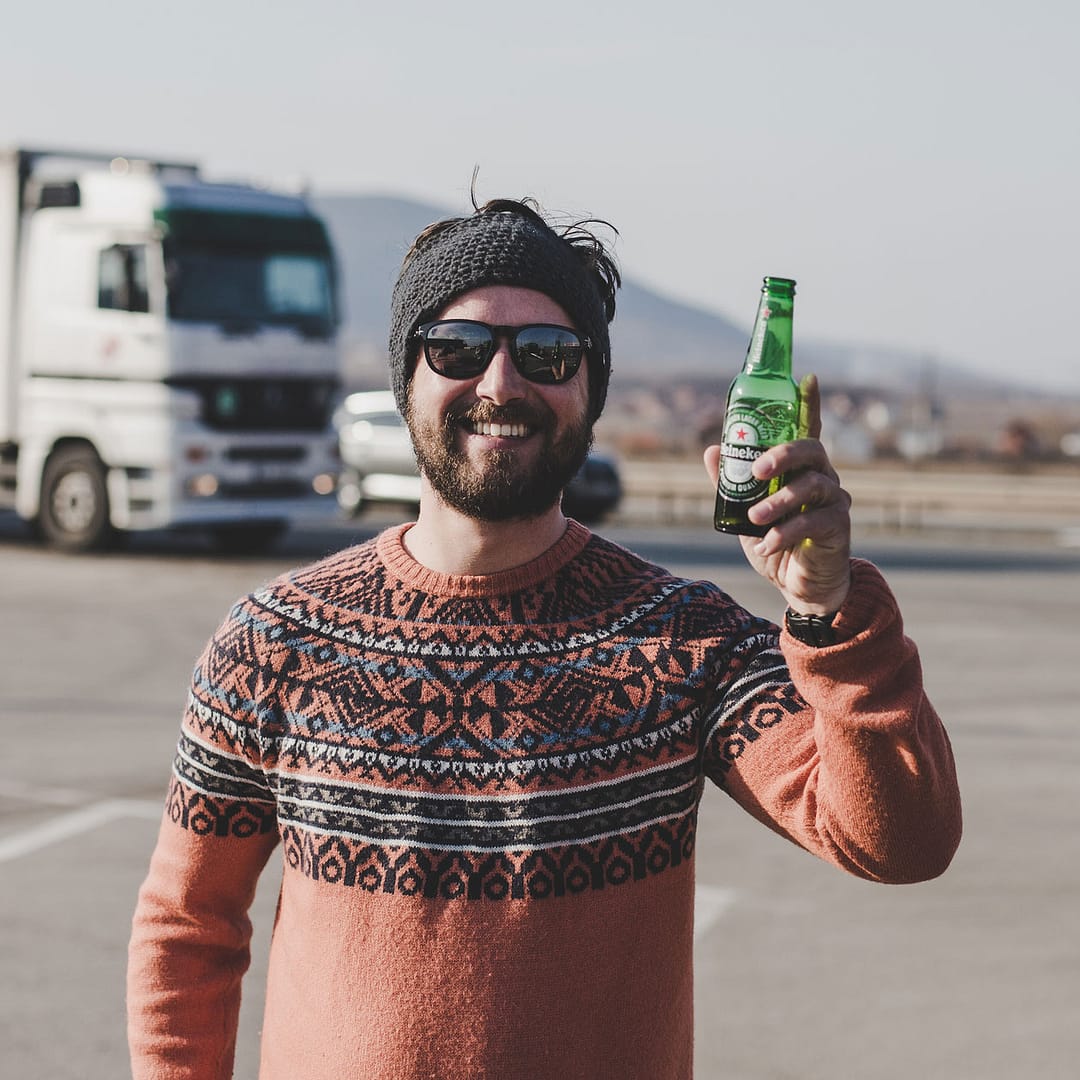 Dani
Local Guide
If you ever need something in the Balkans, Dani will know where, who and how to get it. When we travel with Dani, you get the 'no worries' package. Dani is always happy to find a way to make our journeys that little bit more easy while he shows us something new and uncharted.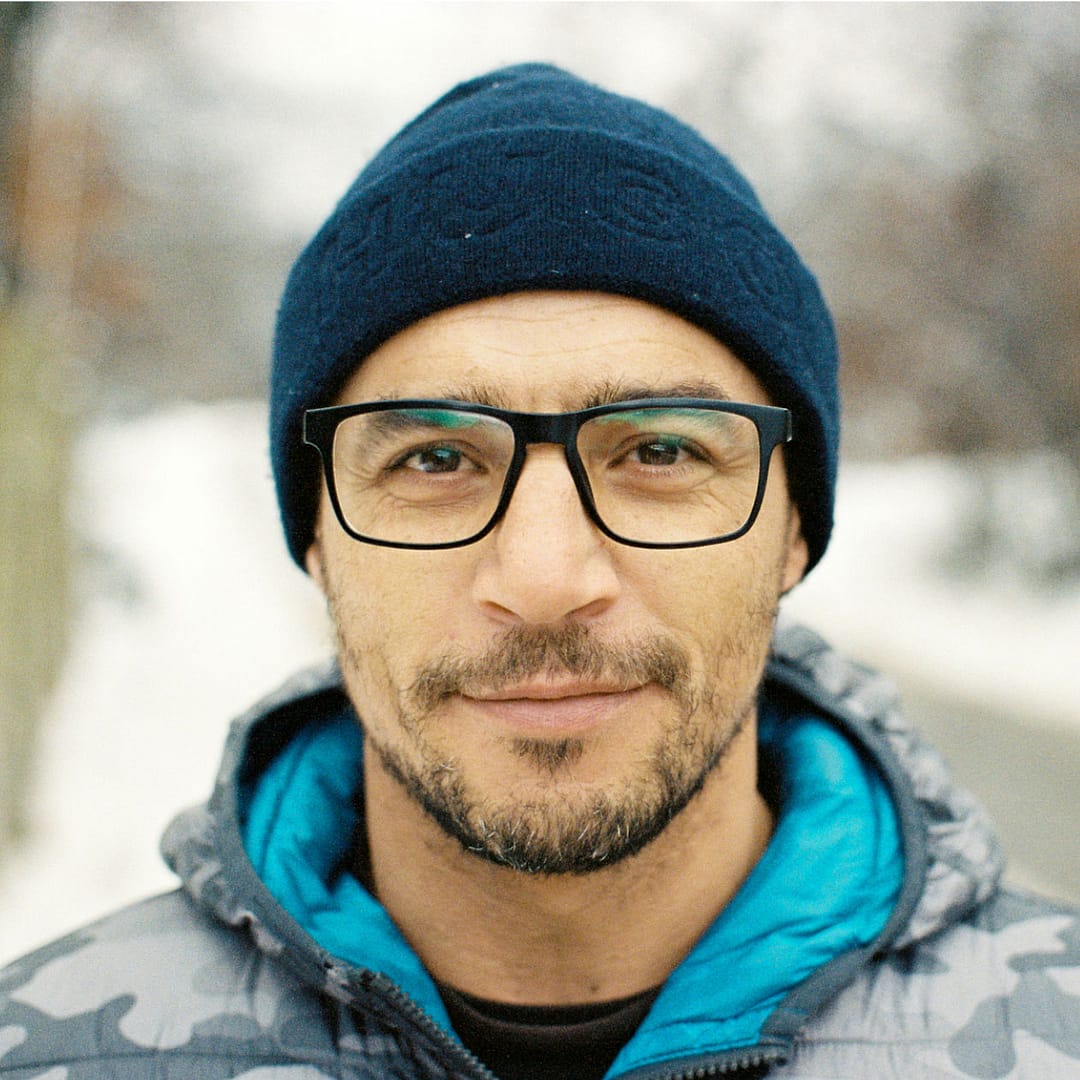 Hamdi
Local Guide
Hidden behind the humble smile of Hamdi, is a man known on the mountain as "Super Hamda". Hamdi knows the rugged mountains bordering Kosovo, North Macedonia & Albania like no other and is infamous in the region for his expertise and knowledge.
Group Size
Min. 4, Max. 8
Starting Point
Skopje
Activities
Cat Skiing & Skitouring
Next Date
-coming soon- Feb & March 2023
Fitness
Physical fitness required
Ski Level
Experience on ski or snowboard
Adventure
How for to push into the unknown
2 days Cat-skiing @ Lynx Freeride Lodge, 3-4 days free-touring (skitouring, resortskiing)
7 night in double rooms (Guesthouses, apartments and hotel) / single room option available
Breakfast, Lunchpack, Dinner
Local Guides (English speaking)
UIAGM certified Mountain Guide (German & English-speaking)
Transports and driver

Flights
Ski & Snowboard gear
Alcoholic beverages
Tips

Our trips are masterminded by professional athletes, but you definitely don't have to be one to join us on them. For us sport is above all a medium to connect people and realise dreams, whether it's winter or summer. Some skills may be required depending on the adventure, but mostly our journeys are designed for anyone that's motivated, fit and excited to broaden their horizons. This trip is for experienced off-piste skiers/boarders. You should be able to ski all kinds of terrain with confidence and a good technique. This trip also requires handling skills and basic knowledge of climbing skins, avalanche transceiver, shovel and probe. Experience in rappelling is not necessary. Physical fitness is mandatory for participating in our freeride trips. Our guides are of course eager to adjust the pace to the group as best they can, but hikes between 400 and 800 meters in altitude should not be a problem for you. Depending on snow, strength and motivation of the group hikes will take between 1-3 hours. Participants may be excluded from certain runs or hikes if they don't meet the requirements and / or endanger themselves, the group or the mountain guides.
A combination of freeride and touring. We adapt our daily plans to the current conditions. When there's fresh powder, for example, we don't waste time on long hikes if we have a lift available. The focus is on skiing as much powder as possible and touring skis help us approach the best possible snow conditions.
Cat skiing with LYNX Freeride is an adventure in itself. The lodge is far from civilization and you can really relax up there. Sebo and Hamdi, our local guides, will get us to the best spots around the highest peak of the Kosovo, Gjeravica. A modern snowcat is ready for us to explore the remote slopes around the Lodge.
Our trips are suitable for skiers and snowboarders (splitboard). For skiers we recommend skis with 90 to 115mm under foot. Best case would be with pin bindings and free-touring ski boots. We don't exclude snowboarders, but please check the trip requirements and sign up only if you can fullfil them easily. Avalanche equipment (backpack, avalanche transceiver, shovel, probe) is mandatory. Helmet is recommended, but optional on this trip. We also suggest proper outer wear in order to adopt to changing weather conditions. Snow goggles, sunglasses, spare gloves, cap, possibly balaclava or mask. An airbag backpack is recommended, but not mandatory. If you need any rentals, let us know.
Our trips are suitable for skiers and snowboarders (splitboard). For skiers we recommend skis with 90 to 115mm under foot. Best case would be with pin bindings and free-touring ski boots. We don't exclude snowboarders, but please check the trip requirements and sign up only if you can fullfil them easily. Avalanche equipment (backpack, avalanche transceiver, shovel, probe) is mandatory. Helmet is recommended, but optional on this trip. We also suggest proper outer wear in order to adopt to changing weather conditions. Snow goggles, sunglasses, spare gloves, cap, possibly balaclava or mask. An airbag backpack is recommended, but not mandatory. If you need any rentals, let us know.
On of the major advantages in this region is, that we don't have to hurry or fight for our lines. There will be many different options to ski down the different venues, from steep couloirs, tree-runs with pillows and mellow open powder fields. Our mountain guide will choose the terrain according to the conditions so everybody can find interesting terrain to ski and stays safe.
Many years of planning Freeride trips and searching for the best possible snow conditions taught us, that it's best to stay as flexible as possible. In order to get the most out of your trip, our packages are open for small changes until soon before the trip starts and we checked all the conditions in the destinations involved. Nature is always stronger than the human will. Forcing ourselves into something is not our way and safety is always priority. If we have to change plans or even skip a day of skiing we hope you understand that we do this in order to keep everybody safe.
The cuisine on the Balkan is one of the highlights of the trip. There is a broad variety of meat dishes, but also a lot of vegetarian options that definitely provide all the nutrients a veggie lover needs. The breakfast is usually very rich and for the road we will either have snacks on huts or bring lunch packs. On this trip we rarely get any packaged food and most ingredients will be out of local organic farming.
We spend three nights in private houses, with different room options available. The houses are modern and well equipped with kitchens and comfortable beds. Rooms fit up to four people, but there are doubles and single available. The Lynx lodge offers rooms with twin beds and some with queen sized beds perfect for couples or against charge as single rooms.
There are no flights included in the package, as we learned that most people like to take care of this themselves. Secondly, we are reaching out to an international audience to join our trips. There are many possibilities to fly into Skopje, for those out of the Austrian region, check out Austrian Airlines and Wizzair out of Memmingen. If you want us to send you a flight offer just mention it in the inquiry form. There is the possibility of taking the train, just contact us for information about schedules and recommendations.
Europeans don't need a visa in advance for the Balkan states. Your passport should be valid for at least 180 days after arrival date. For people from other parts of the world contact us or check the visa requirements by yourself.

Place your non-binding booking request
You will receive your personal or group offer + a standard information sheet from us within three days
Let us know if you want to accept the offer (valid for seven days)
When you are ready you will immediately receive the travel contract with all further information
Transfer the 20% advanced payment within seven days (you now have a spot for the trip)
The remaining amount is due 20 days before the start of the trip (you will receive a reminder email)