Flow in fairyland
Cappadocia is almost like a fairy tale. One where bizarre rocks are referred to as fairy towers; where flowing trails run through lush green valleys; where it smells like freshly brewed Turkish coffee and people live in underground cities. Somewhere in the middle: You and your mountain bike.
What awaits you
Our trip combines two parts to show you everything this magical area has to offer, a cultural and historical ride through the rural areas of Cappadocia followed by endless flowing single track.
History on mountain bikes
The first few days you roll off the tourist track. In the rural east of Cappadocia we are welcomed with hospitality in a traditional "pansiyon", culinary specialties such as kebab or vegetable stew made from locally grown food and nights by the wood stove in a cave construction. All surrounded by the soft voice of Hami, our guide, who tells of the region's eventful past. A bit like history lessons on mountain bikes, peppered with a few kilometers over field and asphalt paths as well as single track trails. The people, the food and also the routes on the bike form the perfect counterpart to the second part of the journey.
---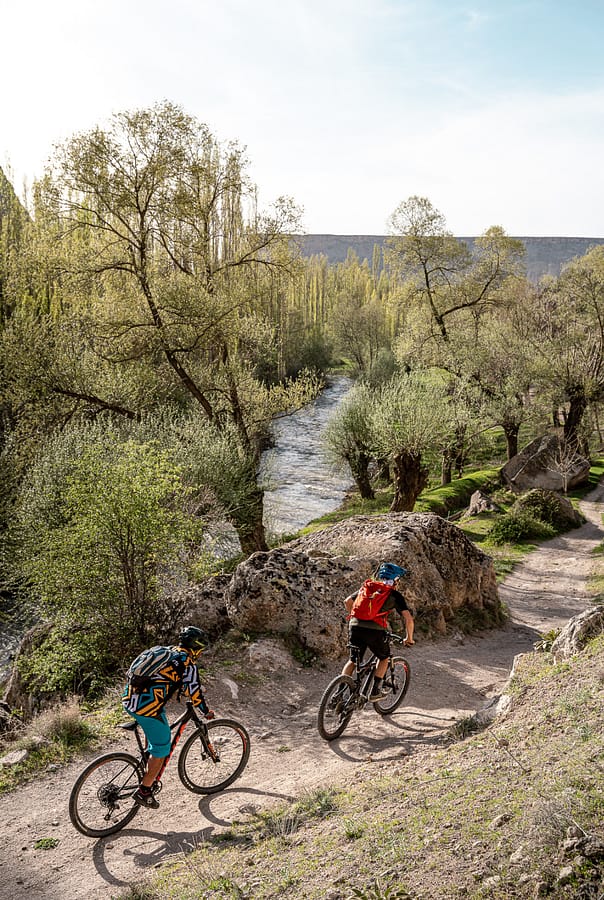 Why mother nature is the best shaper
After a rural cruise, the region's crowd puller awaits your visit: the Göreme National Park with its bizarre fairy towers made of tuff rock. The scenery is world-famous, and a hot-air balloon ride at sunrise attracts thousands of visitors every year. We do things differently. After a night in a million-star hotel (under the open sky) we bike towards the morning light. Hot air balloons have replaced the stars. In front of us gorgeous, untouched trails created by Mother Earth herself. Amplified by the endorphins rushing through your body while the first rays of sunshine tickle your face. At least now you know it: You are part of this fairy tale
The exact itinerary, information about fitness and much more can be found below in the trip info.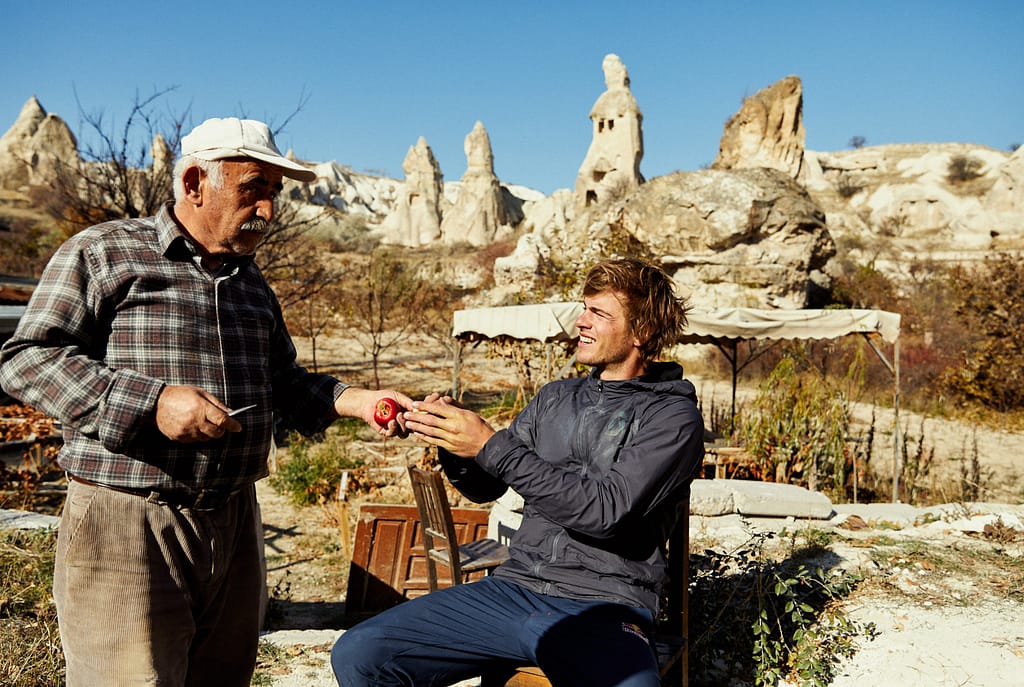 Hami
Certified Bike Guide
Hami was born and raised in the north of Turkey, close to the Black Sea. When in his early twenties he decided to move to Kayseri to get education as a guide. After a while he decided that his days doing what "normal tourists do" are over and started his mission to explore the area on mountain bikes. Hami is deeply in love with his beautiful home place and all the amazing possibilities and the history Cappadocia offers.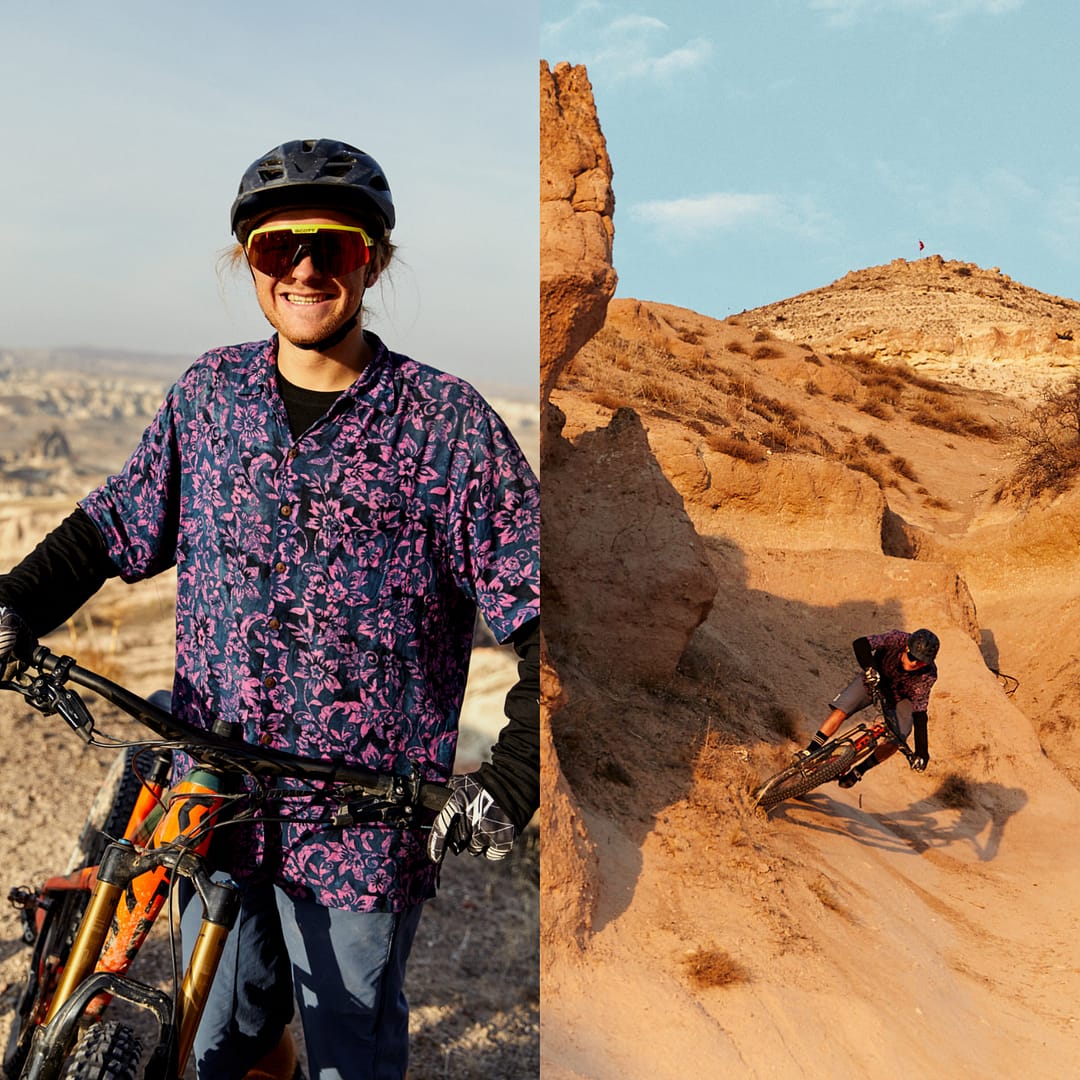 Konsti Ottner
Snowmads & MTB Guide
Konsti is our man when it comes to enduro biking. Many years of experience riding and building trails and guiding people through the Alps make him an important component for this trip. Konsti is always happy to help improving your bike skills or help with any kind of issues with the bike.
Group Size
Min. 4, Max. 7
Starting Point
Kayseri Airport / Göreme
Activities
Mountain Bike Enduro
Next Date
5.05.24 - 12.5.24 or inquire with us for private groups
Costs
1900 €
Fitness
Physical fitness required
Bike Level
Experience on your bike
Adventure
How for to push into the unknown
3 nights in traditional comfortable cave room "hotels", 3 nights in a traditional cave room "pansyion" (2 beds, 4 beds & 6 beds / room), one night million stars hotel (outdoors)

Full Board with breakfast in the accommodation and dinner in a selected restaurant

Packed lunch and snacks

Transfers and shuttles by private bus with trailer

Entrances to an underground city

Local Certified MTB Guide (English Speaking)

Second Snowmads Guide (Konsti) for groups larger than 7 people

Day 1

Arrival in Kayseri. Transport to

Soğanlı Valley. We assemble the bikes and get to know the area by foot or bike. We can do a little Single Trail next to the house and get to know the area. Local Food welcome Dinner with the owner of the house.

Day 2

After breakfast we start exploring the rural side of Eastern Cappadocia. It feels good to move again and today we will pedal quite some distance through very interesting landscapes. This day is a mix of asphalt, dirt roads and some singletrail. We have lunch at an old underground church where we learn about the rich history of this area. The afternoon ride will be a bit shorter; In total we bike around 50km and around 800 meter altitude along the way.

Dinner in the valley.

 

Day 3

Another amazing breakfast in the quiet Soğanlı Valley. Transfer roughly one hour to the western part of Cappadocia. Again we use our bikes to explore the area passing shepherds mountain lakes & an ancient red church. Hami got something special planned for lunch today. After that we bike through the beautiful Ihlara valley where we find the first longer singletrail through green fields and crazy rock formations.

30-40 km 500 meter altitude difference.

Dinner at the hotel.

 

Day 4

A short transport gets us closer to the National Park of Göreme and we ride one of the most fun single trails down to a fairytale valley framed by huge natural towers and mysterious cave entries. At lunchtime we reach the National Park and our spot for the following night.

The second half of the day is either for resting, or we explore another short trail.

We are in the middle of the action now and this night will be something special. On a huge platform we can sleep underneath the stars in this magical protected area. We offer blankets, but a sleeping bag (at least a thin one) is needed. In case it gets rainy or anybody doesn't feel comfortable, the place offers sleeping spots in the nearby caves.

Day 5 – Day 8

From now on it's all about singletracks and fun biking action. Mountain Biking holiday in the village of Göreme.

Our luggage already got transported to a nearby cave hotel with the best view over the area. From now on we explore the National Park and the nearby valleys straight from our hotel. There will be time to explore the village, do a balloon ride or just relax. One of our guides will always be available to do extra runs and more trails for the motivated ones.

 

On Day 8 we head back to the Airport of Kayseri.

What a nice ride ☺

Cappadocia offers a large network of beautiful trails from easy to difficult. In order not to reach your technical limits right away, you should already bring some experience on trails.

You mountain-bike for a while now and often ride on moderately difficult single trails with easy to moderately difficult passages (heels, root passages, loose ground, stones,...).

With your fitness you can master tours of up to 50km and 800m of altitude. Also two days in a row. (We will also have way shorter days and a transporter around)

Through the caves and creeks we often pass very narrow passages, here sometimes we have to push our bikes for a bit. Basic fitness and mobility are therefore required.

Here is the most important information about bicycles:

You don't need a high-end bike, but it has to meet a certain level of requirements. Full-suspension enduro and/or all-mountain bikes are best suited. These cover a wide range of applications, downhill and uphill.

Hard Facts:

Fully: 120mm to 170mm travel

Hardtail not recommended but possible with good skills

Tire width: min 2.25

TUBELESS (mandatory; very thorny terrain)

Telescopic seat post (highly recommended)

Weight: the lighter the better, preferably around 15 kilos (tours up to 50km with approx. 800m of elevation gain and carrying passages)

Carbon or aluminum doesn't matter

Knee and elbow pads are highly recommended

Helmet: half shell + sunglasses

Backpack: ~20l to 25l (day trips)

Also bring:

Spare hoses (at least 2)

Extra brake pads

Water bottle

Long Sleeve shirt (caution thorns)

Suncream

Wind jacket and mid-layer (it doesn't get colder than 1 degree, mostly it's closer to 25)

Thin hut sleeping bag (We spend one night outdoors, blankets are provided)

At first glance, traveling by bike seems very difficult. With the right bag, however, it works surprisingly well. You will get picked up by the shuttle in Kayseri, so once you have handed your bag over to the plane, you don't have to carry it around much. If you don't want to buy a bike bag (approx. 450€) get in touch with us, we have a few in stock that you can rent for a small fee (50€).

The easiest way to get to Kayseri is with Corendon Airlines (departures from Munich, among others) for around €150-200 round trip + bicycle luggage. Turkish Airlines also fly from Istanbul to Kayseri. Traveling by train is still very difficult to implement due to COVID regulations - but we're staying tuned.

We will be happy to advise you on flight bookings and will also do this for you on request. Please note in the inquiry form.

Getting there by MTB may seem complicated and impractical, but with the right bag, that's no longer a problem. Let us know if you need a bike bag, we will also lend it to you.

There is a lot of good meat on the menu, but Jules was also well cared for on the test trip as a vegetarian. Vegan nutrition is certainly possible, but please note this in the comments. 

We are not focused on hotel stars, but in providing a sustainable down to earth way of travelling. We don't trade fancy hotel rooms for the local experience, but we are always eager to make your stay as comfortable as possible. In Cappadocia you can experience a very unique type of accommodation. Except of one night spent outdoors in the national park (wich is no less exciting) we spend our nights in cave rooms carved into rock just like people did in this region for thousands of years. The first two nights we stay in bigger rooms (max 6 people; check also the photos). There are also double rooms and other options available, if you want more privacy. The other nights are spent in very comfortable double rooms with private bathrooms. Single room on request (surcharge 180€) Are you traveling alone? If possible, we will find a roommate (of the same gender) for you.

EU: Passport valid for at least 6 months.

Please contact us for further information.

COVID:

We send current information about 4 weeks before the start of the trip. In the event of a cancellation due to Covid, we still offer very flexible cancellation conditions.

We recommend getting a cancellation protection at least. We work together with the Europäische Reiseversicherung and would be happy to make you an offer. If desired, check the box in the registration form.

Place your non-binding booking request
You will receive your personal or group offer + a standard information sheet from us within three days
Let us know if you want to accept the offer (valid for seven days)
When you are ready you will immediately receive the travel contract with all further information
Transfer the 20% advanced payment within seven days (you now have a spot for the trip)
The remaining amount is due 20 days before the start of the trip (you will receive a reminder email)