We Snowmads have already fallen in love with the region Svaneti as a top spot for both winter and summer. We've come up with something special for this trip. On a very little-used path alongside the Georgian-Russian border we will cross the Kvishi glacier with tents and explore the region around Mestia.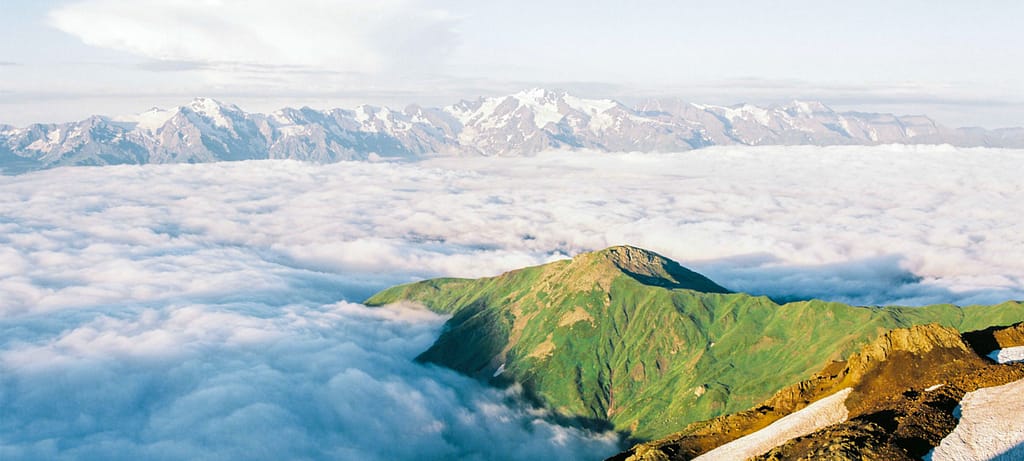 What Awaits You
It all started when Richard Bærug, author and co-owner of the Grand Hotel Ushba, contacted us. Since forever he'd wanted to explore the Kvishi glacier close to the Russian border, which is giant but pretty unknown to most.
Only a few days later we – Fabi and Jules – set out from Mestia to Mazeri and met up with Richard. He told us about the previous scouting tours in the region and about the route we were going to take.
There was no official path and we would see how things work out.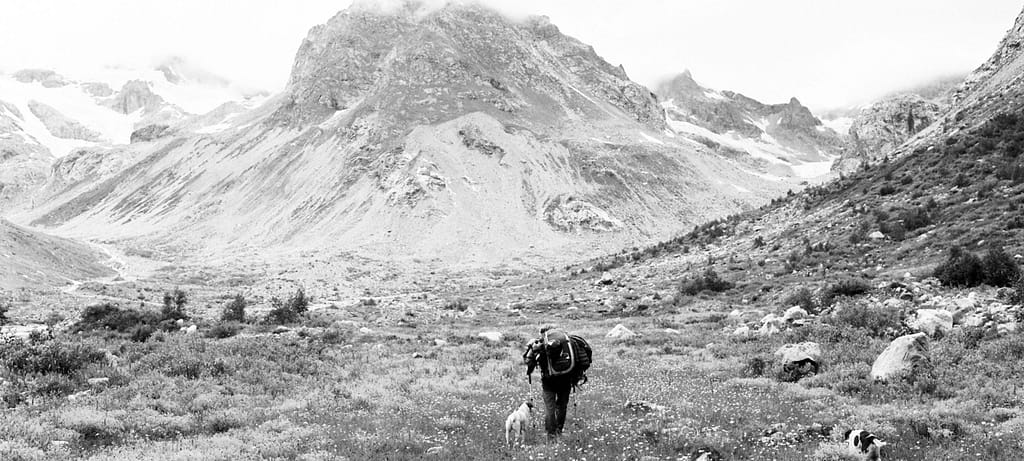 What followed was one of the most beautiful trekking tours we have experienced so far and we realized immediately that we wanted more people to see this untouched area through Snowmads Travel.
The second part of the trip takes us to Mestia.
Since Fabi is a co-owner of the Cloudbase Hut, we just can't not visit this gorgeous hut on the southern slope above Mestia.
From there it's only a short hop to the Koruldi lakes where the striking Ushba can be seen.
Our local Snowmads Nick and Zura grew up in Mestia and we are more than happy to have such good guides and friends there to show you this stunning region.
Meet our amazing local guides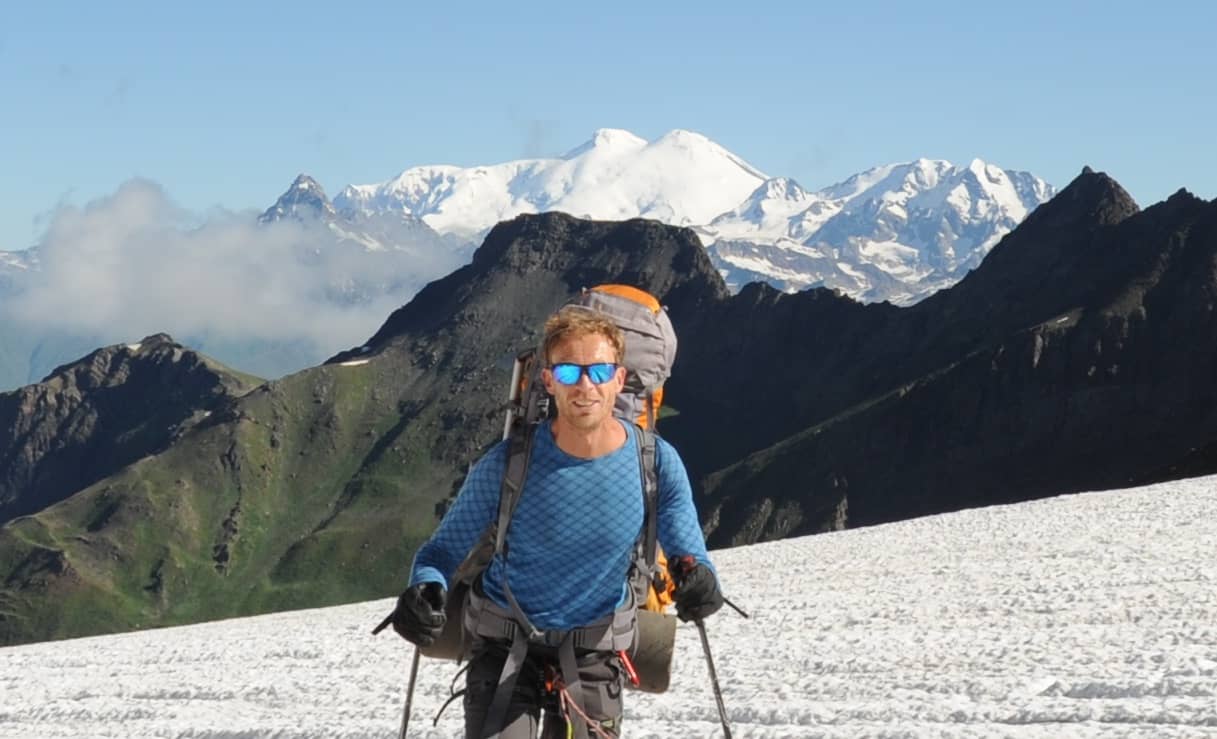 Richard
Local Guide
When Rich first came to Georgia as a traveler a few years ago, tourism was still in its infancy. He got to know a local mountain guide, decided to raise the required 3000 lari (then around 1000 €) and co-founded the "Grand Hotel Ushba" in Mazeri with him. 
Rich speaks Svan (local dialect), Russian, Norwegian and English, has a Ph.D in media and communication and knows pretty much every corner around his new home. His experiences in the mountains on foot and skis got published recently in: "The Essence Often He Caucasus – Svaneti". 
We are happy to have him with us as  a Local Snowmad for our Georgia trips. Rich got more than a story to tell and understands how to bridge the gap between the modern western lifestyle and that of a Georgian peasant.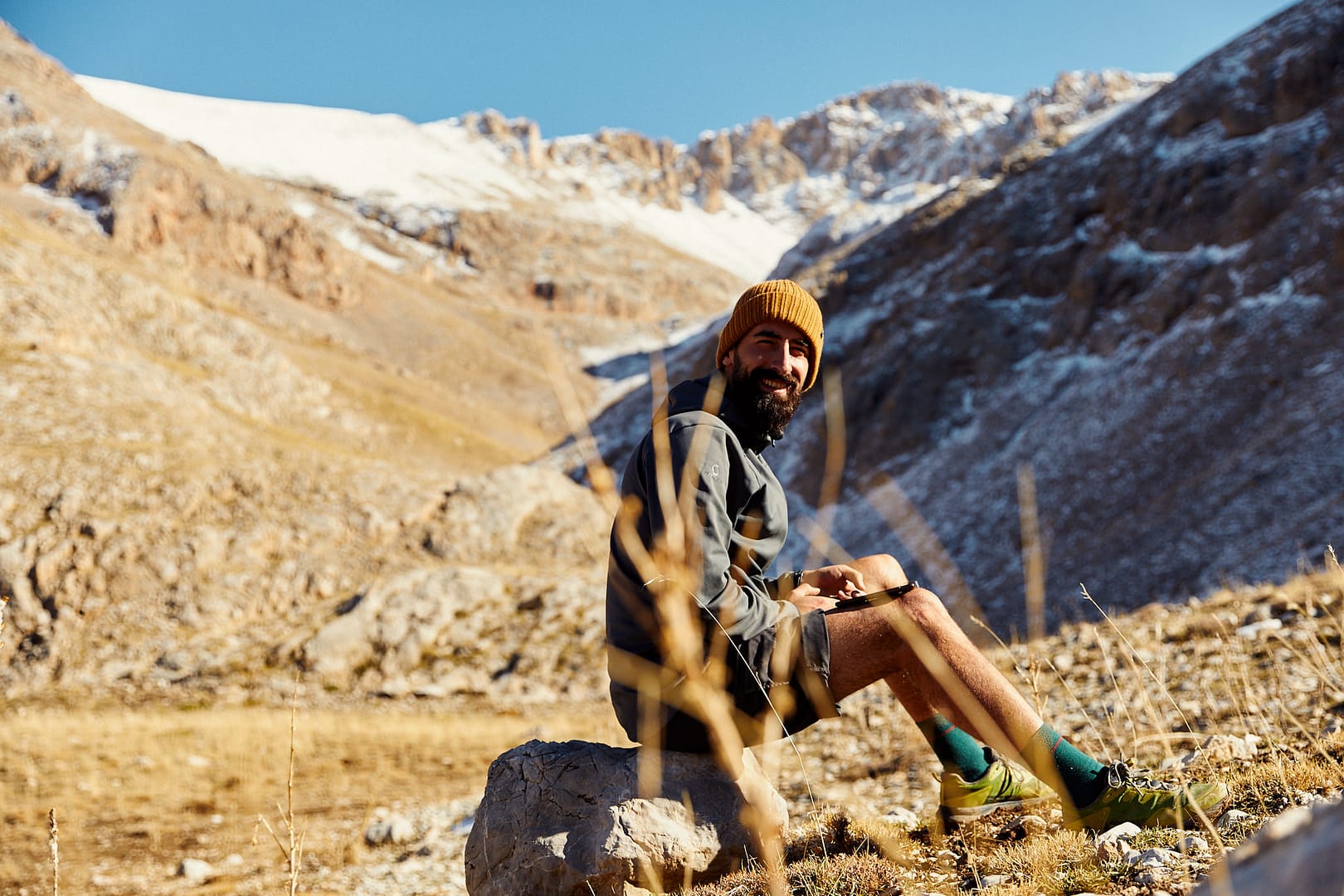 Nick
Local Guide
Nick is based in Mestia, Svaneti and he is what one would consider a local. The Snowmads trips to Georgia would not have been the same without him and we are happy to have him on board. Nick is a certified mountain guide, ski guide and co-owner of the Cloudbase hut, where we always try to have stopover on our Georgia trips.
Nick always brings an extra dose of relaxation into his tours and one always feels safe under his guidance. His family also runs a small guest house in Mestia, where we will experience outstanding Georgian cuisine and hospitality.
Group Size
Min. 4, Max. 8
Starting Point
Tiflis
Costs
coming soon
Next Date
September 2022
Fitness
Physical fitness required
Adventure
How for to push into the unknown
9 days of guiding by a trained mountain guide (4 days of trekking and 4-5 days of hiking from our accommodation)
Accommodation and full board
Rented tents and meals during trekking
Transfer Tiflis-Mestia-Tiflis
Introduction and training on how to move on ice

Renting crampons, sleeping bags, matresses
Getting to Tiflis
Alcoholic drinks
Tips

Day 1: Arriving in Tiflis
We are happy to help you with your journey and which flight to pick. Arriving on time for the first shared dinner would be desirable, though.

Day 2: Departure to Nakra and equipment check
After breakfast in Tiflis we head west into the mountainous region Svaneti. Our first destination is Nakra. In the afternoon we arrive at our accommodation and we familiarize ourselves with the equipment for the next days.

Day 3: Trekking starts
Alongside the Nakra river we hike towards the Russian border. We meet the Georgian border post on the way – since a special permission is needed for our route. The first stage takes around 3-5 hours and we spend the night by the Nakra river surrounded by gigantic waterfalls and 4000 meter peaks.

Day 4: Departure to Kvishi glacier
On the next morning we set out towards Kvishi glacier. We leave the Nakra valley and choose a side valley, where we leave marked paths and go our own way. Our goal for the day is to reach the glacier early, put up our tents and get used to the ice there. Ascent of the day around 3-5 hours.

Day 5: Crossing the glacier
After we check our equipment again we start off towards the ice. Our alpine guide Nick and a helper install fixed ropes to secure the first steeper part. After that the glacier flattens and we can catch our breath and enjoy. After hours on the ice and amidst massive rock faces we reach an oasis that seems a little out of place after 6-8 hours. A rich green pasture surrounds two little ponds with fresh mountain water that invited us to take a bath when we first got there. We called the spot "Paradise Lake" and stay the night there.

Day 6: Back to civilization
We start this day with crossing at least two glacial streams. After that we head out of the valley and rich pastures and forests soon start replacing the barren glacial landscape. We cover around 15km on this day, though only downhill. We reach Mazeri in the evening and check in at our Local Snowmad Richard's Grand Hotel Ushba.

Day 7: Day of rest with the option to visit the Guli waterfall
On this day we get to know the life in Mazeri, visit locals and listen to Richard's stories at dinner. If you're motivated there is the option to set out for Shdugra waterfall with our mountain guide (5-6 hours). The Shdugra waterfall is the highest in Georgia and definitely worth a visit.

Day 8: Transport Mestia – Cloudbase Hut
Depending on the mood and energy levels of the participants there are two options for this day. One group can cross the Guli mountain pass with our guide. It takes 7-9 hours and around 1400 meters in altitude to get to our destination, the Cloudbase Hut. Who chooses to take this route is rewarded with a wonderful view of the Ushba and a visit to the Koruldi lakes. We take your luggage from the Grand Hotel Ushba directly into the accommodation to make the long ascent a little bit easier for you.
For all those who want to have a more relaxed day, we organize a transport from Mazeri to Mestia directly into the hut. Depending on whether the group is motivated we can visit the Koruldi lakes in the afternoon from the hut (ascent around 1h).

Day 9: Relaxing in the Cloudbase Hut
This day is all about the well-earned relaxation. The location of the hut on the southern slope above Mestia is perfect for relaxing in the hammock and in the evening friends from Mestia come around to have a BBQ.
There is also the possibility of course to explore the surroundings and go on short hikes.

Day 10: Mestia and option Ushguli
On this day we hike down to Mestia and get to know this very special mountain village. Our local Snowmads look after you – you can already look forward to the Georgian kitchen!
We also offer the possibility to go and see the UNESCO World Cultural Heritage Uschguli on this day. If you're interested, please say so in the inquiry.

Day 11: Departure
It's been great!

Enjoyment of exercise and physical fitness are required to participate in our trips, but you don't have to do top performances on this trip. Our guides are of course eager to adjust the pace to the group as best they can, however, ascents up to 1500 meters in altitude or 15 km in flatter terrain should not be a problem for you.
You should be no stranger to longer mountain tours to meet the requirements of this tour. Surefootedness is absolutely necessary!
Participants may be excluded from certain runs or hikes if they don't meet the requirements and / or endanger themselves, the group or the mountain guides.

We will spend one day on the ice. You don't necessarily need previous knowledge for that, though. The steep terrain will be secured with ropes and most of the way over the glacier is only mildly steep anyway (<20 degrees). You will be trained by our mountain guide in advance and we will only start ascending after everyone is comfortable with the equipment.

Hiking boots suitable for crampons (please find out if your crampons fit your shoes)
Universal crampons
50-60 liters trekking backpack
Sleeping bag (-5 Comfort)
Sleeping mat with good floor isolation (please check if it's working)
Warm outdoor clothing, Gore-Tex or the like
Functional clothing
Sunglasses (suitable for glaciers) and sunscreen

If you need equipment to rent, please say so in the inquiry. And only take what you really need, every kg will be noticeable.

For this trip the group size will be limited to 8 participants. This way we can assure you maximum safety and we can also prevent that a bigger group might distort the local processes.

For groups of four persons or more we can offer all dates and destinations for private groups,
companies or other constellations – please just inquire and we can put together a tailor-made program.

You can determine the extent on your own.

We spend the first night in Tiflis in a very modern hostel in double rooms. Welcome Dinner is included.
The second night we'll stay in a small guest house in Nakra. Double rooms, dinner included.

During trekking we're on our way with TNF Stormbreaker two-person tents. If you want to bring your own tent, please do so. Concerning food everyone is asked to help prepare meals while trekking.

2 nights in the Grand Hotel Ushba (Mazeri) with three meals double room/twin
2 nights in the Cloudbase Hut with two meals, multi-bed room
1 night in the guest house Phaliani with three meals and double room/twin

Journey to get to our starting point is not included. If you need help with flights, you're welcome to contact us.

Passport or ID card?
German and Austrian citizens can travel to Georgia with an ID card without any problems.

This applies to direct flights.

For flights with transfers in Istanbul,
Warsaw, Riga or Kiev we recommend travelling with passport,
because some airlines do not accept an ID card.

Place your non-binding booking request
You will receive your personal or group offer + a standard information sheet from us within three days
Let us know if you want to accept the offer (valid for seven days)
When you are ready you will immediately receive the travel contract with all further information
Transfer the 20% advanced payment within seven days (you now have a spot for the trip)
The remaining amount is due 20 days before the start of the trip (you will receive a reminder email)